Shooting swimwear or bikini has always been so exciting for me. Not just because of the glamour or travelling it includes but also because I love working with natural lights and specially when I see those blue skies , clouds and a gorgeous model to compliment the entire frame, wow I simply cannot explain that in words. I have seen many photographers' work where because of their some small mistakes the entire shot has been ruined. So I thought to share some of my own styles or tips for shooting swimwear on beach which might help you if you are planning your first swimwear shoot on the beach or trying to improve your skills. I am simply sharing the things I take care about while shooting swimwear, so follow this 10 tips and definitely you will see big improvement in your photography. 
1 – Make the model comfortable.
Making the model comfortable is very important for any shoot that includes swimwear or bikini. Does not matter how professional model is or how much swimwear/bikini shoots she has done in her past but with you it might be her first time. So take your time out and share your ideas and references with her and make her understand what kind of poses or mood you are looking forward to shoot in your session. This way she will have a very good conversation with you before the shoot and trust me that will make a big difference while shooting.
2 – Style your model up.
Shooting fashion swimwear is not just about showing up the garments/swimwear all the time like catalogue shoots. Sometimes you have to shoot for overall mood of the campaign also. So styling your model is a big key to achieve that mood or look for the shoot so from hair styling to the accessories you give them they all comes together to create the right mood. So style her by yourself (if you have good fashion knowledge) or hire a stylist to help you out for the styling.
3 – Keep it low and simple.
Every great photo shoot begins at home with thoughtful preparation of your gear. This takes on especially great importance when your intended location involves a billion grains of sand, eager to invade your equipment. In the case of the beach shoot, I believe in packing light, pre-assembling your gear, and placing everything in Ziploc bags, prior to heading out the door.
The good news is that beach photography usually involves ample amounts of sunlight to work with. This allows you to create amazing images with less than cutting edge camera gear. I also carry a second back-up camera to every beach shoot. Dropping your camera in the ocean is bad. Missing that amazing image at sunset is worse! With this in mind your backup camera can be extremely modest and still produce surprisingly good results.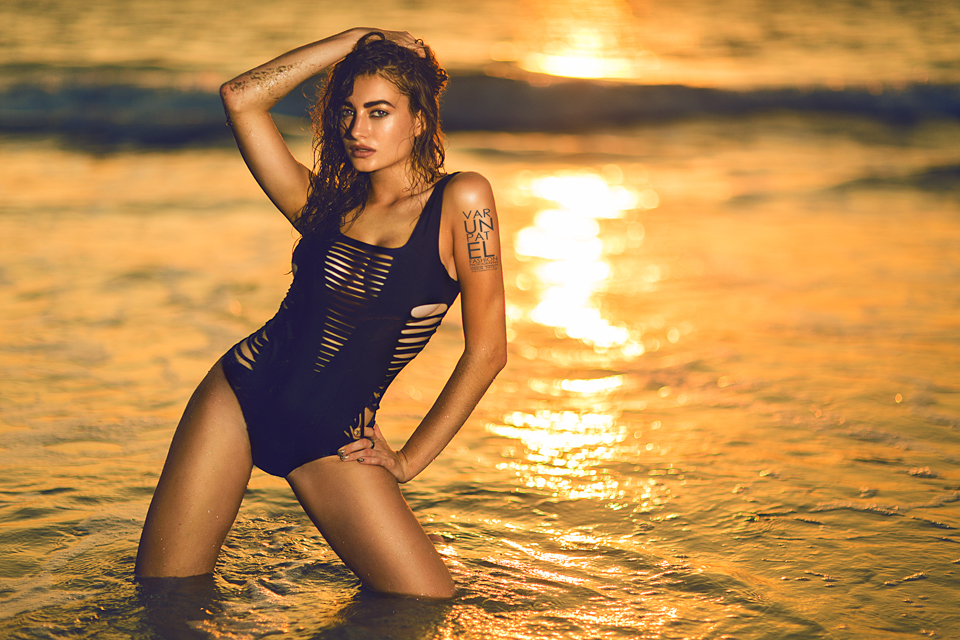 4 – Selection of the right lens.
My personal preference for beach photography is a medium telephoto, wide aperture lens. The exact length of lens will vary depending on your personal style. I encourage those new to beach photography to start off in the slightly telephoto range (closer to the start of the ranges listed above) until they find their personal preference.
5 – The sun is your friend.
Your first lighting orientation to master should be shooting with the sun at your back, and your model looking nearly into the sun. This negates the need for reflectors and extra crew. The downside is that your model can only look in the direction of the sun for a few moments at a time without squinting and great discomfort. I coach my models to look down to rest their eyes, and then look up for only a few moments before looking back down again. This will give you the best facial expression, and pose the least risk and discomfort for your model.
The second and slightly more difficult orientation is to have your model between you and the sun, using reflectors to fill the shadows. This is considerably more comfortable for the model, but requires the use of a third person to hold the reflectors.
In a 1-2 hour photo shoot I generally expect that the best images will all occur in the last half hour. This is not to say that the preceding photographs are unimportant! The first hour of shooting is your chance to build rapport with your model, as well as comfort with your equipment and surroundings. I start each photo shoot with some very basic standing poses, then as trust builds, and the sun approaches the horizon, I move to poses that require more complicated interaction with the model. I suggest you also take great care to keep your model out of the water until the last half hour of your photo shoot. Even the best Photoshop skills can't fix a frozen model!
6 – Use reflectors and flashes where/when required.
In recent months, when I shoot outdoors, I have been prioritising natural light over mixed lighting as often as I can. I drag along various scrims and reflectors and explore positions, poses and locations that best suit a natural light shot whenever possible. Additional lighting gear comes along on every outdoor shoot – just in case. For the most part, if I do use a strobe, I use only one and work with it and the sun for various two light setups.
Many will say that the staple lighting set up for countless outdoor swimwear shoots is, of course, a dish with a strobe. Diffused or not, this is about as common as it gets for outdoor swim shoots, and for good reason: It works. And works well. Not to mention, dishes tend to be a tad more wind resistant, which is always a good thing.
7 – Shoot Silhouettes.
Silhouettes are relatively easy to accomplish and are model favorites! To achieve a good silhouette I suggest simply setting your camera on Aperture Priority and turning off spot metering (use evaluative or one that reads the whole scene). Your camera will be confused by all of the peripheral light and produce a good silhouette.
But easier way to do that is point your camera at the brightest part of your picture and then press the shutter halfway down (don't let go). Then move your camera back to frame your shot with the subject where you want it and then finish taking the shot. With most digital cameras this will result in a silhouettes.
8 – Location Scouting.
Right off the bat, you need to know where your favorite locations are to shoot commercial swimwear work, be it in your city or town or anywhere in the world you travel to with any regularity. When the client calls on you, it's always best to have a handful of locations already in mind that you can recommend. And since you'll be shooting swimwear, your locations should ideally make sense with the world of bikinis and swimwear fashion pieces in general. Naturally, there are no hard and fast rules about locations for swimwear photography, necessarily, but having a varied set of options, up front, is always ideal since you sometimes don't have tons of time to take advantage of that perfect summer weekend weather when it happens.
9 – Understand The strange land of sunset light.
As sunset approaches the color temperature of light coming directly from the sun becomes extremely warm, while the light coming from the sky becomes very cool. This strange lighting environment creates challenges when it comes to white balance.
Many photographers come to the beach armed with gray cards to custom white balance their cameras. Unfortunately this is fraught with difficulties. A gray card aimed toward the sunset will generate a very different color temperature than a gray card aimed toward the sky. If you're going to use a gray card I suggest intentionally aiming the card at about a 45 degree angle to the sun in order to capture some of the cooler light coming from the sky. It also pays to remember that you are in a rapidly changing environment, and that you will likely need to redo the custom White Balance about every ten minutes to keep up with the changing conditions.
10 – Use perspective for giving your images a different edge .
One of the most common mistakes I see made by newbie photographers, is to shoot at eye-level. As observers of our world, we are very accustomed to seeing everything from our built-in eye-level. When you break out of that experience, you will add a whole new level of engagement with your audience to your images. One of your first duties at the beach is to survey potential shooting vantage points. Even simply laying down in the sand, or standing 2 feet above beach level, will give amazingly good results