One light wonder, an understanding of one light setup. Normally many photographers ignore the importance of shooting with one light source. For some photographers i have been training, before they came to me, they believed that the more lights they use, the better the images they will get. But i totally disagree to that and here are some reasons why. 
As a mentor, I insist my students to keep their lighting setups easy but effective. So many times during my sessions they do ask, referring to my previously shot images, how did you shot this? What is the lighting setup for this shot? and many such lighting related question. And most of the time my answer to them is. It has been shot with one light setup only. Using one light source for liting your subject does not shows, you are not capable of doing multiple light setups, but it shows you know what you are doing. For that perfect shot, sometimes only the sunlight is also enough. So it is all about how you see the light source.
From studio to outdoor photography, one light setups are really easy and effective. Even in our previous blog post about swimwear photography, I have mentioned using one light source to lit my models in effective ways. I am sharing some of my favourite one light setups, do comment if you enjoy our blog posts and wants to see more.
Lighting your subject from 45Degree to 90Degree, right or left side.
One easy way to light your subject is liting it from almost a side light position. It gives you enough drama and also enough highlights to make your subject stand out. Here in this setup, i have used my Elinchrom 400 studio light with Elinchrom strip box. This lighting setup will be perfect for model's portfolios or some drama shots also.
Lighting your subject from 10degree to camera left or right with bare strobes.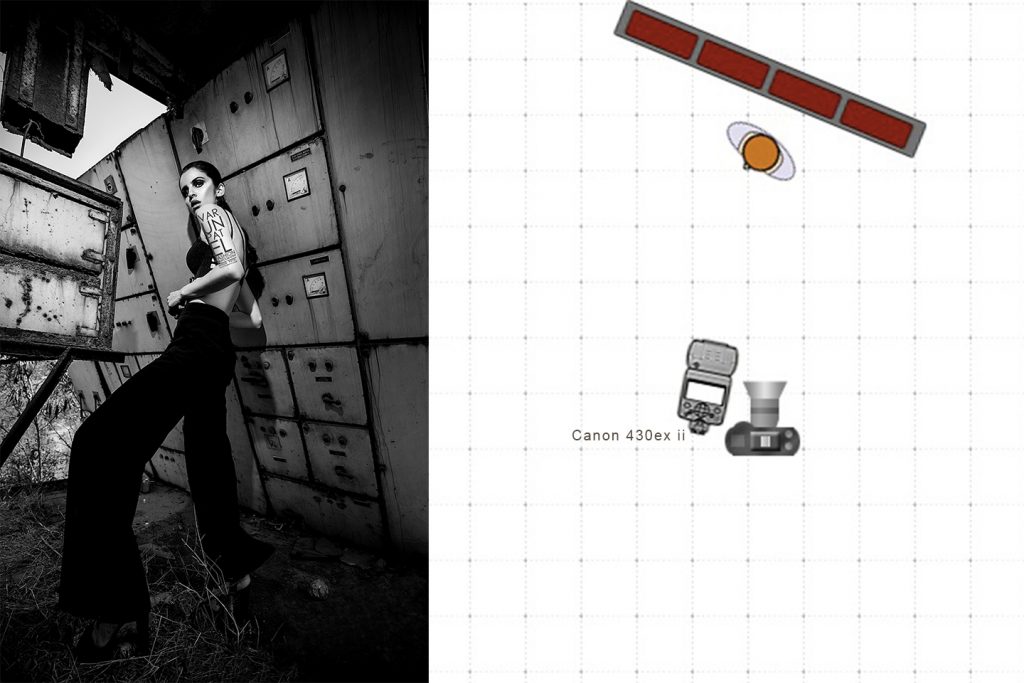 A lighting setup with minimal shadows and maximum coverage. This setup produces lot of contrast on your subject, so selection of background and garments has to be very precisely. I shot this at an old factory under a shade, this shot is from around 11pm in summers. The power of my canon 430ex ii is allowing me to bring the overall highlights down. This lighting setup also looks amazing specially if you are into black and white photography.
Lighting from camera right 90degree while keeping the subject on cross angle from camera.
Well this lighting setup will help you when you are looking forward to balance the lights, with the atmosphere or ambient light. A reflective light modifier will make sure the light gets scattered in all direction, while the outer baffle will make sure about changing the light quality. For this type of setups, normally you need to meter your camera exposure to -1, and add your fill light with your light source. A canon 430exii has been used here as the light source, with a small deep silver octagonal umbrella.
Using reflector as the fill, one of the most easy and effective also the cheapest lighting setup.
If you understand natural lights, your photography can really go to a next level with our those big investments. I believe if you are shooting in sun, reflector is really most effective and the best light source for you. There are few reasons for this.
Reflector works with our any external power sources.
They are cheaper compare to the flashes.
They will never ask you to wait for the refreshing time.
They are continuous light sources which makes you see the light better.
They come in different surfaces so you can be creative with them.
They are easy to pack and you can take them anywhere with out any problem.
They gives amazing catchlights to make your subject's eyes look so live.
So do not hold your self back, use whatever light source you can and start taking pictures today. And keep in mind to keep your light setups easy and effective.
If you are new to photography, and looking for a proper photography courses to get trained. Do checkout the courses I offer to all fellow photographers in Ahmedabad, India. My courses are 100% practical, you get to learn directly from me, and all the courses includes models for your practice and portfolio. Do comment or write us about "What you would like us to write/share with you on our blogs."