When you are starting up your new studio, one of the questions that come to your mind is, shall I have a paper backdrop or shall I go for a fabric backdrop?
This question comes with so many other things to consider such as storage, ease of use, durability, cost, and finally the effect of that backdrop on the image.
So let's get started….
When I started my photography career, the choice was very simple for me. I bought the fabric backdrop because the paper backdrop was not available at that time in my city. So sometimes, the choices are so easy to make. But today if you see, in the market you will find so many brands selling so many varieties.
Selecting the right material is very important for the look you are going for. Matt or glossy, smooth or folds, solid color or hand-painted, and much more to consider. Before we start judging one backdrop over the other, let's understand one thing that, both the options are great. It depends on what your shot needs, and that is the reason we are going to discuss this in detail. So without further adieu let's start with the pointers.
---
Cost of the backdrop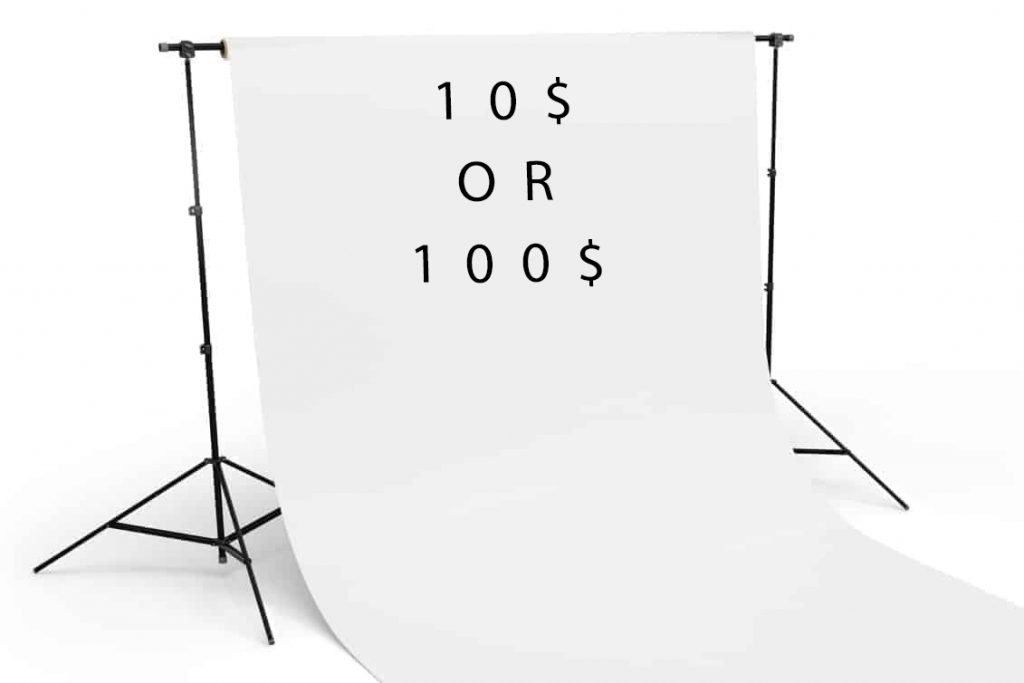 For someone who is starting a new studio, he/she is spending a lot on so many things. So the cost is one of the most important factors when it comes to deciding the studio backdrop material.
Normally a cloth/fabric/muslin backdrop is cheaper compare to a seamless paper backdrop. So if you are running tight on your budget, I would prefer to go for the cloth backdrops.
You can find basic cloth backdrops around 800/-RS to 1000/-RS in your local markets or even on amazon. I normally use hand-painted ones or ones with multi-color effects, which are a bit costlier. I would not prefer to buy this online as you can not check the materials. Plus sometimes the faulty measurements given online might end up with you buying the wrong backdrop.
---
Storage
Some studios have big storage rooms, and some home studios are always running out of storage space. So when the storage space is your concern, I would again say go for the cloth backdrops. Because they are easy to fold and store. It will save a big amount of space.
On the other hand, the paper backdrops, in my city, are available only in one size which is 30′ x 9′. Which requires a big space to store. To store my paper backdrops I have a dedicated space in my studio. And all the backdrops they go on that wall horizontally. The below-given image explains that.
Plus I use a special backdrop system that can hold three backdrops at the same time. So my three backdrops are always on the system and the remaining are on the wall. But paper backdrops can not be folded or stored like a cloth backdrop thus you need to give them a dedicated corner or space.
---
Effect on photos
Paper backdrops produce matt & clean look on your images. Plus you can create gradients of lights as well on them easily. They do not crease which means less photoshop is required. And they give you a clean seamless look. So to me, paper backdrop is the winner in this.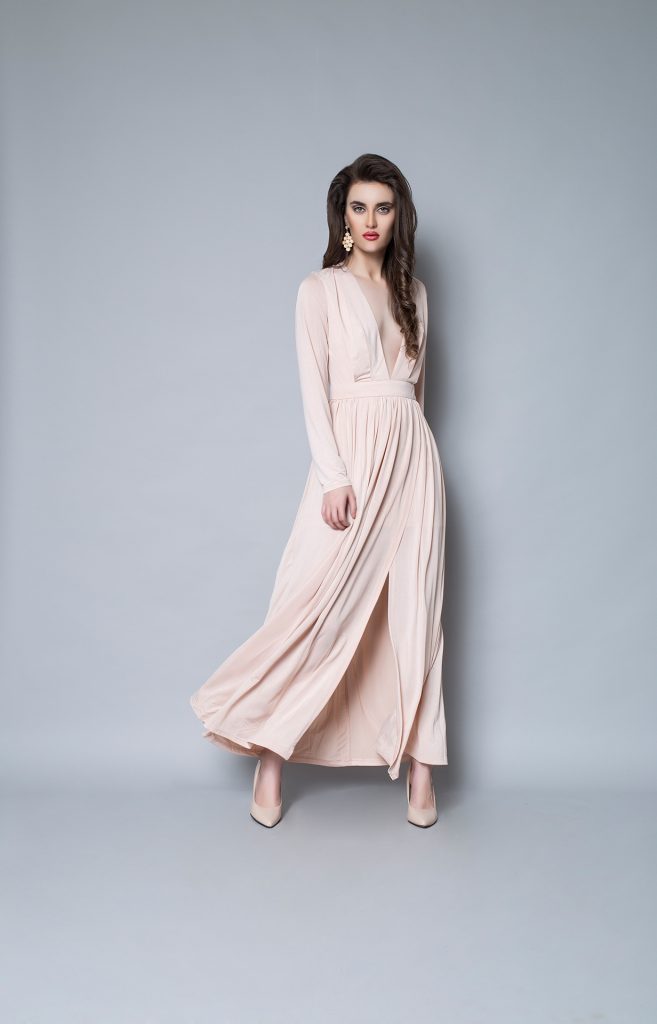 But, I know you will think now why the "But" if you said clearly above that you will go with the paper backdrop, why would you change your statement again. Well I know, I said that. But when you want to have some depth in terms of textures such as big creases, the example is given below, a paper backdrop can not do that. You need to go for a cloth backdrop only in this case. For great handpainted backdrops, I suggest www.gravitybackdrops.com
So as you see above, the cloth can add really a good texture depth to your image.
---
Portability
Depending on your working style you should make your call on this. If you are someone who shoots on client's locations or outdoor mostly, and you do not have a good amount of people and some dedicated vehicles for gear transport then I would recommend to go for fabric backgrounds.
As previously discussed a fabric background can be easily folded so storing and transporting it is also quite easy and simple.
On the other end normally a paper roll comes in 9′ x 30′ size, which means if you want to shoot with them on location, you need to manage vehicles that can transport such long equipment. Plus as they do not fold so it is always a big headache moving them around. They also get stained easily. This takes us to our next point of discussion Durability.
Durability
Fabric is much more durable than paper, of course. Paper backdrops if hanged on a fixed backdrop system can last for years. One of my grey backdrops is still under use after almost 6 years. The reason is normally it is hanged on my fixed backdrop system. Now in my new studio, I have a backdrop system that can support three backdrops at the same time to be hanged.
Fabrics, on the other hand, can be used and stored in any way you want, and still, they will last longer at least longer than the paper backdrops using the same way.
Maintenance
When the model or your crew will walk on your backdrops, no matter how clean their footwears are they sure will stain your backdrops. I use transparent acrylic sheets to avoid such staining. If you are planning to use a paper backdrop for a seamless look. I really suggest using an acrylic sheet or use a sheet of thin foam core board for models to stand on too.
An acrylic sheet will produce a glossy floor look, which can work great for eCommerce images. But sometimes your clients are looking for that matt look effect on the floor. In such cases, you need to use the backdrop without any protection. So it will stain easily.
Cleaning the paper backdrop is possible only at a certain level. You need to clean it right away and also sometimes I tried using pencil erasers and they do work on them nicely. But still, some stains are going to be there forever.
While as with fabric the maintenance is effortless, if they get stained you can easily wash them and the backdrops will be again brand new ones.
Color options
Paper backdrops have a wide range of color options, as I mentioned before also Savage paper backdrops are one of the best in the market and they have a great range of colors also. With paper backdrops mostly you will find the plain colors only. So if you are looking for a multicolor or hand-painted option then you will need to go for fabric backdrops.
Fabric backdrops are available in a vast variety of hand painted and machine painted options. You can also ask someone to make the custom backdrops as per your choice. Some of the fabric backdrops are reversible thus saves your money and space.
Conclusion
A paper backdrop is awesome and gives great clean, matt looking backgrounds. They are easy to store(with proper methods). They give you a real "seamless" feel on your backgrounds with out adding any textures. So when it comes to my choice I prefer paper over the fabric in most cases. But it totally depends on the image requirements, and I have had some great shots with fabrics too.
Fabric backdrops are easy to store, maintain, and comes cheaper than paper rolls. They are any day a great choice for beginners. With some hand-painted muslins, you can create great depth into your images. They also come in reversible materials which means from one fabric backdrop you can produce two different effects on backgrounds. So if you are reading this for your first studio backdrop selection, then fabric backdrops are your way to go.
Both options stated above have their pros and cons, you need to see which studio backdrop style is close to your needs and go for that for your studio.