A specialized photo editing fundamental course for Makeup Artists, models, and photographers. Our BASIC ONLINE PHOTOSHOP COURSE will give you the skills to edit makeup shots like a professional photo editor. Learn the professional photo editing skills with our Mentor Varun Patel
We will teach you to enhance your makeup, skin smoothing, feature reshaping, enhancing colors, correcting lightings, and much more during this course. So let's know more about our online basic photo editing course. We have been training students since 10 years now in our photography institute. Thus our easy learning techniques will make your photoshop learning fun.
Basic Photo Editing Course Description
It is not feasible to have a photographer & a photo editor working for you on a regular basis. You sure can hire them for your important shoots. Hiring a professional team to document your regular makeup work can be very costly.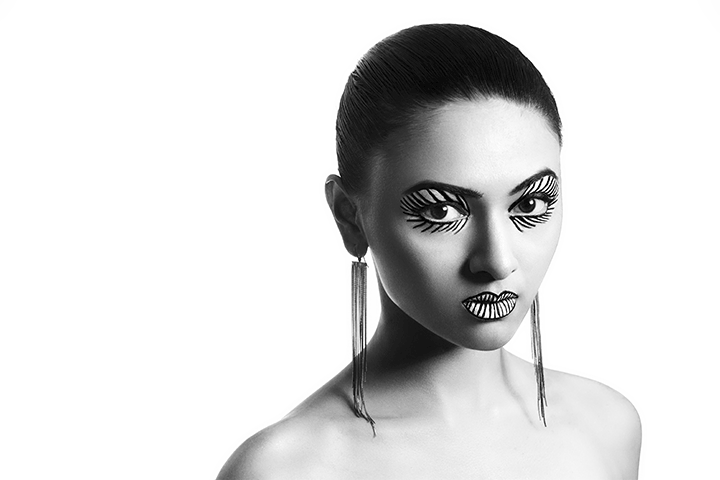 So we are offering this online basic photo editing course specially made for Makeup artists and even for models. In this course you will learn the art of photo editing. Enhancing the impact of your makeup shots. This course will make you independent thus you do not have to wait for your photographers to give your edited images.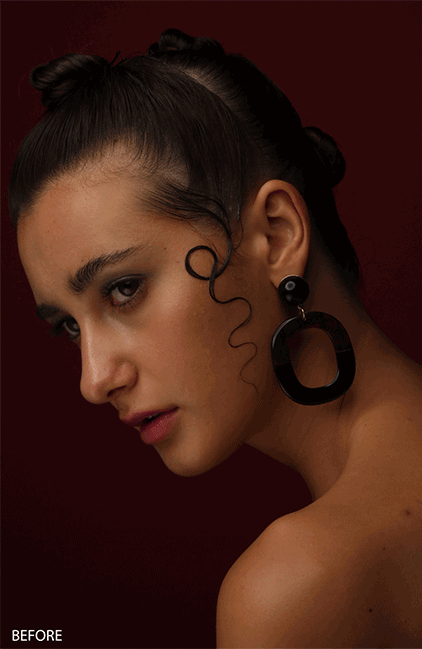 ---
What you will learn during our basic photo editing course
Basic photography tips – Shooting tips using DSLR and Mobile
Basic lighting tips – Natural light tips, Flash photography tips and Ring Lights
Importance of shooting RAW and how to do it on your DSLR and Phone
Processing your RAW images for best quality results
Enhancing lighting
Pimple removal
Skin smoothing
Makeup enhancing
Shaping nose, eyes, lips and other features
Body shaping
Removing small hair from face
Enhancing eyes
Color enhancements
Color correcting your images
Processing your images for social media use
1:1 cropping for instagram
Sharpening your images for webuse
---
Learn live with our 1on1 live video call sessions.
We believe interactive sessions are more fun. Thus all our sessions during this online photoshop course will be live. That means you can ask your questions any time, and get your answers right away. Our helpline will be available even after the course. Which means you can ask your questions even after your course is over.
---
Learn in your comfortable language
We do not want languages to be a barrier to your learning. So all sessions will be in HINDI language so everyone can learn and understand easily. You can ask questions in Hindi and find your answers in Hindi
Duration
4 days
1 hour per day
---
Timing
9pm – 10pm
Night sessions so you do not have any clashes with your timings
---
Date
New dates will be announced
---
Fees
Fees will be announced with the new dates
---
Register your self
Our registration process is very simple.
Whatsapp us on +91 9898 550 223 saying you are interested for the course
Send us your details : Name & Email
We send you our bank account detail for payments
Pay your advance and send us a screen shot for confirmation
Congratulation your seat is now confirmed
---
---
Reviews from students of the previous batch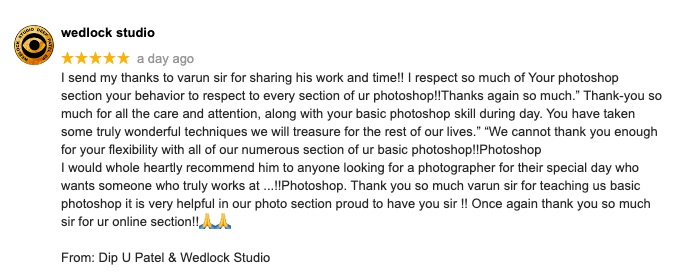 ---
FAQ
How to join online photoshop course?
Follow above given process or give us a call on 9898550223 for registration
How you will give your sessions online?
We will be using Google Meet for our online sessions. Google meet is free software. All you need is download the app in your phone and you can access our stream online
What language the sessions will be in?
We prefer hindi language for our sessions
Can i be online from phone?
Yes google meet is available for phone and PC both. But we prefer you to come online from PC so you can see everything clearly
Can i join if i do not have photoshop installed?
Yes, but photoshop requires a lot of practice. So we prefer you to install photoshop on your computer and practice what you learn.
Who will be giving all the sessions?
Our mentor for the entire course will be Mr. Varun Patel
Mobile photoshop? Will that work?
Mobile photoshop is sure very good but it comes with a lot of limitations. So we prefer you to install photoshop PC version.