LIVE SESSIONS, yes you heard that right guys. SAY NO to boring pre-recorded videos, which gives you nothing but a good long sleep while you try to watch them. We are coming up with live video meet where you are going to learn online, ask your questions on video call and talk to us as if you are there with us, and the best part is, all of these while you are sipping a coffee sitting in your couch at your home. Yes our live video coaching gives you flexibility to learn from anywhere in the world. With our 1on1 mentoring we ensure every student is learning the best from us.
CLASS DESCRIPTION
Every photographer encounters situations where the light on their subject is less than ideal. A small flash can have a huge impact on your photos and is easier to use than you think! We will show you how to use your external flash quickly and comfortably. We will walk through the different flash options available and how to sync your camera and flash. We will walk you through different scenarios and demonstrate how your flash can improve your shots. After this class you'll walk away knowing:
Type of flashes available in market
Understand the camera settings for flash photography
Sync-speed
First curtain sync flash and second curtain sync flash
What a TTL flash is and how it can help you be free from tedious settings
How to set up your flash with your camera
Different type of triggers
How to do flash connections wirelessly using triggers
How to handle multiple flashes with grouping
Understanding Channels and how they are helpful
How to work with on camera flash indoor for events
Understanding on camera flash
How to use your flash off camera, working with TTL, wireless triggers and other gear
Techniques for using modifiers like umbrellas, softboxes and reflectors with your off camera flash
Understanding the accessories and making some DIY light bouncers
How the grids are helpful during your shoot
Understanding basic modifiers
Using flash for indoor portraits
How to use flashes to take some amazing outdoor images
How to use multiple flashes outdoor with modifiers for portraits
Hard light and soft light difference and which one is better for shoots
 Duration : 7 days 
 Language : Hindi & English 
 Location : Online 
 Session duration : 1-1.5 hours 
 Fees : Call us 
 Number : +91 9898550223 
What you will learn during 7 days?
Session 1
– Understanding built in flash
– Different type of flashes
– First curtain sync & Second curtain sync
– What is red eye and why it happens and how to avoid it
– What is sync speed
Session 2
– Flash Modes for wireless connection
– Slave modes
– Different type of flash triggers available in market
– Difference between IR and Radio Wave triggers
– How to group your flashes for multiple flash setups
– What is a channel and when to use different channels
Session 3
– Understanding Manual Flash
– TTL Flash and how it is used to make your work faster
– What is HSS Flash and what are the benefits of using it
– Your camera setup for flash photography
– Relation between Flash and Shutter
– Understand hard light and how you can use it in your benefits
– What is soft light and how it benefits your shoots
Session 4
– Basic understanding of a Reflector and its different sides
– How reflectors can be big help shooting outdoor
– Basic understanding of light modifiers
– Understanding difference between umbrella and softbox
Session 5
– Using on camera flash indoor for event photography
– Different style of bouncing the flash for different effects
– Flash accessories such as grids, gels and bounce cards
– Homemade bounce cards which can save some bucks
Session 6 ( Practical Session )
– Indoor lighting understanding
– Basic indoor setups for portraits
– Light and subject distance ratio
– Different angle of lights for different effects
Session 7 ( Practical Session )
– Outdoor lighting setup using one light only
– Outdoor lighting setup with multiple lights
– Understanding importance of HSS for outdoor shoots
Know Your Mentor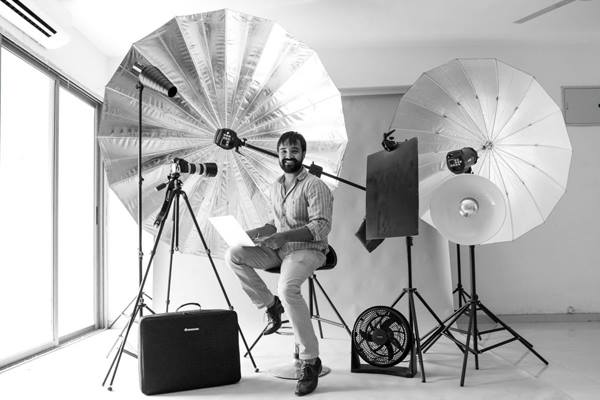 Varun Patel, Mentor of 600+ students will spike up your photography skills to next level. He will make sure you become great at what you do.
FAQ
How do I register for given course?
It is very simple. All you need is to make a call to us on +91 9898550223 or send us an email on our mail address showing your interest joining the course. We will need few details from your side for registration. We will send you our bank account info, in which you will have to pay your fees. And you are all set to learn.
What if i am not able to connect your live stream?
Joining our video meeting is very simple. We will provide you with step by step guide for joining the video meeting. You will receive a mail with proper guide line on your registered email address. Still if you need any help you sure can reach us up on given number.
What software i need to join video meeting?
We will be using Google meet which is part of Google hangout so you need to download google meet in your phones. If you are accessing from laptop it is already there. And login with your google ID to access our stream.
Is google meet a free software or do i have to pay?
Google meet is a absolute free software and very amazing.
Will i be able to join from a mobile?
Yes best thing about this is, it will be available to you does not matter which device or where are you. You can be on your terrace or in your toilet although we does not prefer the second option.
What I will be needing to join the video meeting?
A phone or a laptop with good internet connectivity. And a headset for your listening purpose.
What if there is any connection issues from your side?
If any thing in our connection is not working properly, we will reschedule the session. As sometimes the internet works weird. If the reschedule is not comfortable for you then we will refund half of your fees. But this is only if 50% or more people is facing the connectivity issue from our side.
What if i have questions after the courses?
We have feature on our blog where you can ask any number of questions even after your course. We reply there with in one or two days time. So do check out our ASK US feature on our blog.
Can i have a friend along?
No this is strictly available on per person basis. But if you want a company you sure can pay for their seats on per person basis. As it will be a video call meeting we sure will be monitoring for this. If we see a violation of our policy we have rights to turn off the feed for you with our giving any notice.
Can i record your live session?
No you sure can not and if we found out you did, we will terminate you from the meeting. All our online calls and content is our copyright and any violation will end up in a very legal way on you.