Varun Patel's photography courses have their high reputation in the market. We have so many students coming to us to learn from us. We love sharing our knowledge with all the photographers out there. So just to appreciate your love for us, here we are giving away our one seat for free, in our upcoming beginner level photography course. And the participation procedure is also very simple. Read below for the rules to win your free seat in the Feb2018 batch.
Wow free seat in Varun Patel's beginner level photography course. Everyone is excited for this right? Well then here you go, we are sharing the rules to participate in this contest. But before we move ahead, why don't you see what you are going to learn from us in this beginner level photography course. Simply click on "Beginner level photography course" to know more about the course.  So, happy with the course? Want to join and be a better photographer? Lets discuss about how you can win your free seat in our Feb2018 Batch for beginner level course.
To participate you have to complete following Three Steps. 
1. Show some love to us, Rate our institute on google and write some good words about us. 
Simple isn't it ? Here are the steps if you do not know how to write review on google.
Open google.com, sign in with your gmail account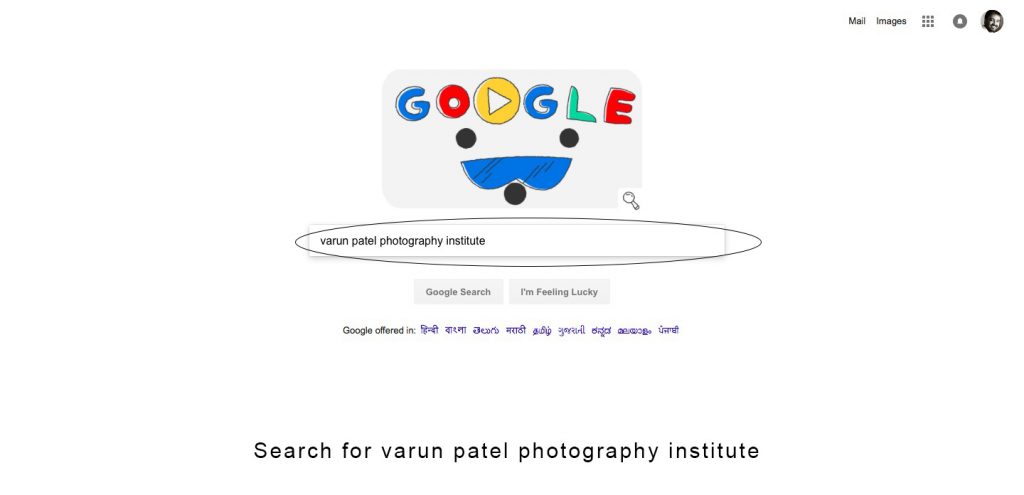 Search for Varun Patel photography institute on google
Click on this particular link to write the review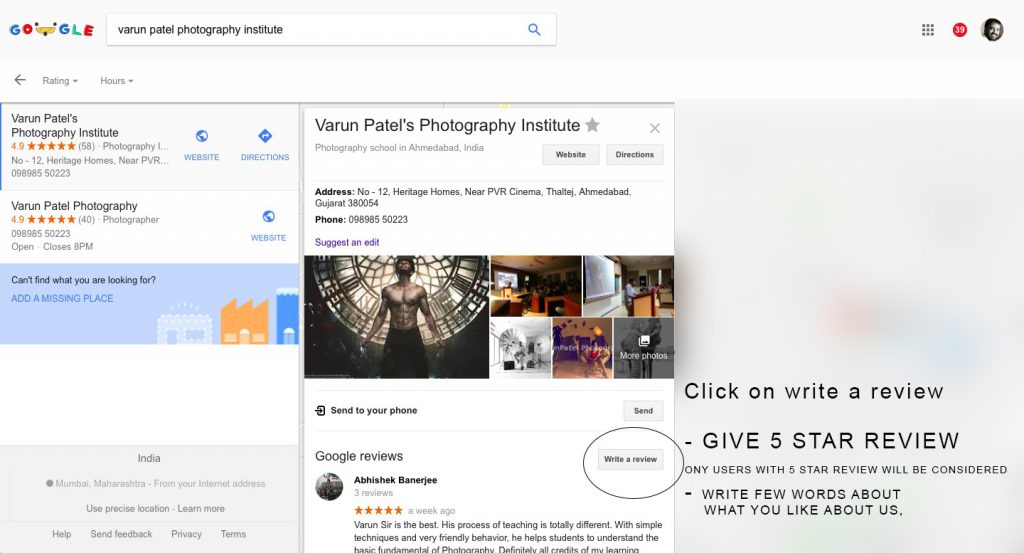 Find the Write a review, option and click on that
Please make sure reviews with 5 star will only get considered for the contest
Write few words of your own about us, what you like about us or anything that you would people to know about us
2. Share our link on your Facebook profile.
It is simpler than our first step.
Simply copy paste this on your Facebook profile.
" Best photography courses in Ahmedabad check this out guys  www.photographyinstituteahmedabad.com " 
We will check your Facebook profile for this post and if it is there , you are eligible for the contest by completing step 2.
3. Get as many comments as you can with your name, on our following post on Instagram. 
Once you are done with above two steps.
Please login to your Instagram account and Find our this post.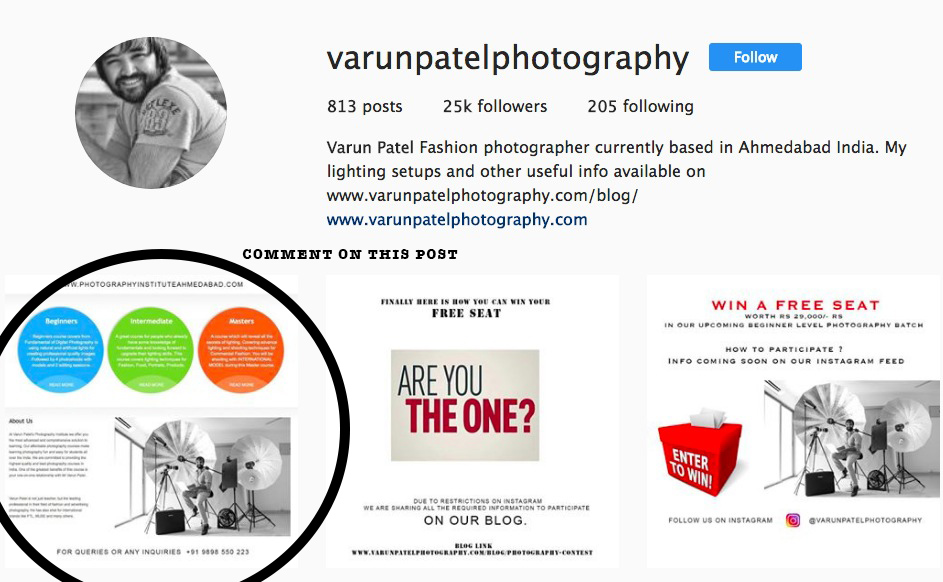 Ask your friends to write a comment on this post with your profile name, e.g. if your profile name is ABC , then your friend should write in the comment, " voting for @abc " . THE MORE COMMENTS YOU HAVE WITH YOUR NAME, YOUR CHANCES ARE BETTER TO BE THE WINNER.
Our winner will be the guy who has completed all these three steps, and who has the most number of comments from his friends on our above given post.
WOW YOU ARE DONE. NOW WAIT FOR US TO DECLARE THAT LUCKY WINNER.
TERMS AND CONDITIONS / RULES : 

1.YOU HAVE TO COMPLETE ALL THREE STEPS, WE WILL CONSIDER YOU AS A PARTICIPANT ONLY IF THE THREE STEPS ARE CLEAR. 

2.NO FAKE ACCOUNTS. 

3.USE YOUR OWN AND VALID ACCOUNTS ONLY FOR THE GOOGLE REVIEW. SO WE CAN TRACK YOU THERE. 

4.THE WINNER GETS SEAT FOR THE FEBRUARY BATCH ONLY. IF BY ANY CHANCE YOU CAN NOT JOIN THE FEBRUARY BATCH, WE WILL NOT SHIFT THE FREE SEAT IN ANY OTHER BATCH FOR YOU. 

5.THE FREE SEAT IS NON TRANSFERABLE AND YOU CAN NOT ENCASH THE SEAT NEITHER FROM US OR SOMEONE ELSE. 

6.THE SEAT WILL BE GIVEN TO THE WINNER WITH THE SAME INSTAGRAM ACCOUNT WHO WON. NO FRIENDS OR FAMILY WILL GET THE SEAT IN TRANSFER. 

7.WINNER HAS TO FOLLOW AND RESPECT OUR RULES FOR ADMISSION. 

8.IN CASE OF TIE, WE WILL DECIDE THE WINNER. NO ONE CAN CHALLANGE THE DECISION MADE BY US. 

9.WE WILL CONSIDER THE VOTES ONLY TILL 16TH FEB2018 SO ANY VOTES, REVIEWS OR COMMENTS AFTER THAT WILL NOT BE CONSIDERED VALID WE WILL DECLARE THE WINNER BEFORE 21ST FEB2018

10.OUR COURSES WILL BE CONDUCTED IN AHMEDABAD, GUJARAT SO IF YOU WIN, YOU WILL HAVE TO COME TO AHMEDABAD FOR YOUR SESSION. 

11.WE HAVE RIGHTS TO REMOVE YOU FROM THE BATCH ANYTIME, IF THERE IS ANY MISBEHAVE FROM YOUR SIDE. 

12.BY ENTERING IN THE CONTEST YOU AGREE THAT YOU HAVE READ AND AGREEING TO OUR ABOVE TERMS AND CONDITIONS / RULES. 

13.RESPECT TO AHMEDABAD JURISDICTION.